A few seconds after the 77th minute of the match the 1.4 million koreans who were out in the streets of Seoul since 4 am uttered a shocked "What !!?!!" in unision. 10,000+ kilometers away, I jumped out my chair and also yelled "What !!?!!"
Horacio Elizondo, a referee from Argentina who was officiating the Korea vs Switzerland World Cup match, had awarded a goal to Swiss player Alexander Frei. The offside flag that had been raised by the referee assistant Rodolfo Otero, was ignored by Elizondo.
The korean defence had already stopped pursuing the ball and covering the swiss players. The play was an obvious offside and the offside flag had also been raised by an official. But Frei did not stop. He dodged the Korean goalie's blocking attempt and lightly kicked the ball into the goal.
Of course, this is an offside. Of course this will be waived off... wait... what... this is a goal ? The referee is gesturing that this is a goal ? What !!??!!
The replay shows that the ball was kicked towards the goal by a Swiss player. It deflected off a Korean defenceman and then went straight to Frei who ran with it and scored the goal. You can see the official raise the offside flag when Frei touched the ball. FIFA regulations also state that deflections, off the goalie, post, or opposing player, do not count as possession by the opposing team, ergo the pass by the swiss player deflected off the Korean defenceman was clearly an offside. BBC Sports Academy has a good illustration of this scenario.
Bah, whats the point of complaining about it now. No matter how much people complain the decision cannot and will not be overturned. It was a controversial and stupid decision though. The referee also handed out 10 yellow cards during the 90 minutes of play; 5 to each team. Ugh.
The Italy vs USA match was also full of stupid referee decisions; 4 yellow cards and 3 red cards. I hate it when referees take over the game and control the flow. That is not how the World Cup should be played :(
In any case, the Group matches are complete and the Round of 16 is going to start tomorrow with two teams advancing from each group; A, B, C, D, E, F, G, H.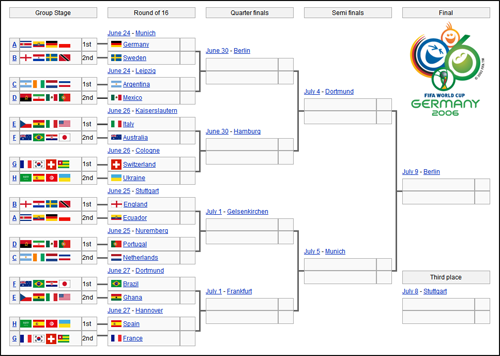 I'm hoping for a Germany vs Brazil final with Germany as the victor. For the Quarterfinals I'd like to see Germany, Argentina, Australia, Ukraine, England, Portugal, Brazil, and Spain compete amongst themselves. The Germany/Sweden, Italy/Australia, and Spain/France matches are sure to be highly entertaining. The Aussie Socceroo's have also been very impressive so far; 3 goals in 5 minutes when playing against Japan and this is their first world cup appearance in 32 years. I would be so happy if they knock-off Italy from the tournament.
If lunato and I cannot be in South Africa for the 2010 World Cup then we definitely want to be in South Korea when the Korean "Taeguk Warriors" restart their World Cup dream. Just look at these massive crowds!!
Lastly, i love the Adidas Jose+10 ads. You can view them here on Youtube: Part 1 and Part 2

vs.

the edmonton oilers vs carolina hurricanes stanley cup final series started today. like all NHL playoffs series this one is also a best of 7 series. carolina won the eastern conference and edmonton the western conference. now they're both battling for the Stanley Cup. during the regular season carolina was #2 in the east and edmoton was #8.. they barely made it into the playoffs and now theyre in the finals.. lets go oilers :D
don't even ask me about the ottawa senators. they are not a playoffs team and the sooner i accept that the sooner i will stop being disappointed year after year. yes, ottawa fans, we just have to admit that now. during the regular season the team plays well, they were actually #1 in the eastern conference. but during the playoffs they simply do not have the same passion for the game as any of their opponents. the winning goal for buffalo against ottawa was a disgrace. three ottawa players near the puck and none of them made any effort to reach for the puck and get it out of the zone. you cannot have a "la la la someone else will probably get the puck.. i'm just going to stroll around like im taking a pretty walk in the park" attitude during the playoffs!!!! gah! i'll root for Sens next NHL regular season but if they make it to the playoffs, i don't know if i want to even watch their games... lets go oilers :D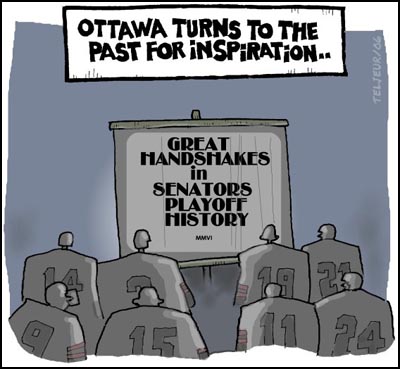 after 40 minutes, oilers are leading 3-1 against the canes. a road win during the NHL finals is an impressive accomplishment and i hope they maintain the lead. and then win the next one in a carolina as well. and then go home and win two more in a row to sweep the series... lets go oilers :D
sopranos season 6 finale yesterday was a bit weak. i was hoping agent harris's prediction that someone close to tony would get whacked would come true. the entire season was incredibly slow and nothing really happened. tony gets shot, tony hallucinates, tony wakes up, vito gets caught dancing in a gay bar, vito is murdered, paul has a heart attack. thats it. 12 episodes wasted like that.
there were some hints at tensions between the New York and New Jersey families and within tony's family, personal and business, as well but neither of those scenarios were explored further. bobby is still where he was before. silvio has settled back into his original position as right-hand-man after tony's return from the hospital. paulie is the same dispicable human being. vito, who i did not even remember as being part of tony's crew had a quarter of the season devoted to him just to get whacked by phil. christopher is drinking and enjoying drugs again but at least there was some character development for him. he moved on after that horrible affair with adriana, got married, bought a new house, quit his drinking, quit his drug habits, pursued his movie ideas a bit more, but now seems bored with his life and "job" ... sitting in the diner with his new goomah not knowing whether to do more drugs or go to another AA meeting or just go home to his pregnant wife.
at the beginning of the season my expectation was that this season would focus on tony's crew, the infighting between his captains, and the power vaccum in new york after johnny sacrimoni's arrest. eight more episodes left next season which will be sometime in 2007. looking forward to it. also Deadwood season three is starting soon and this will be the last season with 2 two-hour movies later on. cooool :D
as for the game.. oilers were leading 3-1 in the third period. canes tied it at 3-3 and then took a lead at 4-3 only to have it tied at 4-4 by oilers. however, dwayne roloson, the stellar goalie for edmoton suffered an injury and the backup goalie, ty conklin ( yes that's his name ) replaced him in the net with about 10 minutes left in the third period. he made two saves... and then with 30 seconds left in the game conklin made the most stupid dumb newb goalie mistake ever (video): "Ty Conklin, who had entered the game in the third period after Dwayne Roloson was injured, fumbled with the puck behind the net and it squirted out in front of the empty net where Brind'Amour tapped it in." sigh, edmonton loses the first game in the series :(
AND roloson is injured and not playing for the rest of the series. damn damn damn.. you might as well give the cup to Carolina right now :(
lets go oilers :(