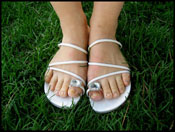 I feel good whenever I wear formal high-heel shoes. They make me look taller and nicer (in my opinion) but soon after my feet get so tired that I envy the people who are wearing sneakers or slippers.
Today as well, I tried to ignore the pain of my feet, but grrrrr it was just hard to ignore. feet, o.k o.k you exist, I get it.
Sikander and I stopped at an Aldo shoe store in Eaton Centre in downtown Toronto and we bought accidental sandals. A few white straps with a huge gem on the toe strap. My feet became quiet and were in peace again.
29th April is International Dance Day and there were many performances at the Yonge and Dundas Square. a few dance schools performed Salsa and other dances. It was fun to watch.
We walked all the way to Bloor street along Yonge street to enjoy the weather and people. There was an Asian music band playing some music near the Bloor TTC Subway entrance. We watched them play for a while but they seemed unorganized.
We talked a lot, as usual, about everything and everything. By the way I just remembered something we have talked about and since sikander is forcing me to write a journal everyday, I am going to start revealing his secrets one by one so that he would block me from writing.
He has a very very old silky pajama which I call 'persian prince pajama'. How long has he been wearing that.. it used to belong to his dad actually. It has vertical stripes with an elastic waist and he wears it all the time with his socks over the pajama legs. So, the shape is really like an Arabian Nights costume. Anyhow, it's very old and has holes everywhere. I begged him to dump it out but he loves it. I took him to Sears and showed him nice and new pajamas, but he refuses.
Recently he confessed to me that he actually has a huge fear whenever he wears the persian prince pajama under his pants. He imagines what if we went to a bank and all of a sudden bank robbers come in with guns. Then, just like the movie "inside man" they force the hostages to strip down to their underwear. Sikander has a plan for it. He would refuse to take off his pants, he will just say "man just shoot me, i am not taking off my pants man"
He would rather die than display his old persian pants in public. Actually it was once displyed in public in Ottawa. Almost about 10 years ago, no wonder he was still using the pajama, he had to give sunny a ride to a movie theater. He thought he was just dropping sunny and he would stay in the car the whole time. So he dared to go out in "persian pajama" without wearing any pants on the top. Once sunny got off the car the car door didn't close. So he had to call the car repair people and they asked him to stand outside in front of the main door of the theater to make it easy to find him. Sunny was working at the theatre so sunny could not help. Sikander had to stay in that pajama at the main door of the movie theater where all the cool kids in town were hanging out.
Poor sikander in his poor persian prince pajama. One day i'm going to take a picture of the pajama without him knowing about it. Next time you see him, ask him if he is wearing his persian prince.