Google released an email uploader recently called Google Email Uploader that allows a user to transfer emails from Microsoft Outlook to Gmail. I've had a Gmail account for a few years now but I didn't consider it my primary address. Fed up with the hundreds of spam emails that arrive at my sikander.org Catch-All address daily, I decided to shut it down and move operations to Gmail.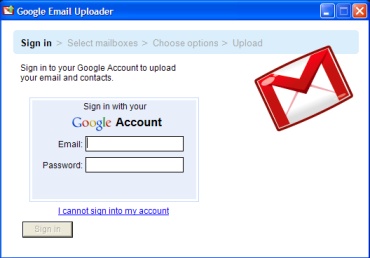 Unfortunately Google Email Uploader works with Google Apps hosted Gmail only. A normal user is not able to use it. However, there is an alternative.
IMAP stands for Internet Message Access Protocol and it allows a client to access email from a remote server. Google added support for IMAP access to gmail last year.
This allow you to set up a new account in Microsoft Outlook to connect to Gmail through IMAP and then move your email from Outlook to Gmail. Be aware that copying a folder from Outlook to Gmail can take a long time depending on how big the Outlook folder is.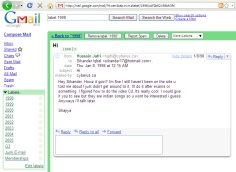 I've backed up most of my email archive to Gmail. Google will automatically label the emails that your import into it with the folder's name. The contents of an Outlook folder called FoxTrot will be labeled as "[Gmail]/FoxTrot" which you can easily rename back to "FoxTrot".
It's a relief that I don't have to worry about losing emails again. I can throw away the "Backup" cds and dvds. What a wonderful service.. and free too!
The oldest email I have is from January of 1998 from Shajiya Jafri. She showed me how to open an email account on hotmail.com when we were students at Merivale Highschool. I don't remember what website I told her about.. maybe Shacknews ? Haha!