i wished that time just stopped when we were eating hard boiled eggs in the volcano water in bandung, indonesia or when we were on a ferry looking at the hong kong skyline at night.
on the 25th of september, saturday evening, i arrived at the airport in jakarta from seoul. my flight was about 6 hours long while sikander's was a total of 24 hours exactly from canada. i was supposed to wait for sikander at the Cathay Pacific baggage claim area since my flight was arriving 15 minutes before his. however, it took so long time for me to get at the indonesian visa-on-arrival. there was a huge line up in front of the booth. finally, as soon as i passed the immigration office, i saw someone standing… sikander…. can you imagine how cool it is to see the one who i really care of in a completely foreign place like that? sometimes things too good to be true really come true just like this.
// my flight from hong kong arrived on time but there were only two people in line for the Visa On Arrival booth. it costs $25 USD to get the Indonesia visa. the officer did not ask any questions at all. i gave him my passport, he flipped it open, looked at the pages, selected a page at random, put the visa sticker on it, stamped it, and gave it back. the original plan was that i would meet lunato at the Cathay Pacific baggage claim area since neither of us had ever been to jakarta airport and did not know of any other better place to meet. after my immigration i walked towards the baggage claim area but no lunato anywhere. i waited for my small brown suitcase chan and then started walking towards the other wing. after confirming with a security guard which wing Korean Airlines docks at, i went to the immigration area on that side of the airport and had to wait for only 10 minutes // sikander
after we met, we collected our baggage and went outside and met naraku. he was on the right corner of exit and waved at us when he saw us. from the airport, we all went to naraku family's weekend place in bogor which is an hour away from jakarta. we met naraku's cousin rio there. i asked him what he does, and he replied "i …. do …. nothing" haha yeah, definitely he is a cousin of naraku who should always act so cool. next day, sunday, we visited the world's biggest botanical garden (i guess) and got *really nice photo* as well. after botanical garden we went to a shopping mall. sikander bought a guitar there cuz it was pretty economical to buy there instead of canada. after we had indonesian fast food (noodles and dumplings) we came back to the house. since the house had a private pool we had to take advantage of it. hehe it is so cool i don't need to be so jealous of glamorous bikini girls there.
// the bogor house was like a presidential palace. i have never been in such a amazing house in my entire life. it was owned by naraku's uncle.. his mother's sister's husband. he's the CEO of a trading company and is quite quite rich with four houses and 6 or 7 cars. at the time we arrived, naraku's family was actually moving from their old house to a new house so their house was very busy and hectic so we decided not to be in the way and stay at bogor that night. the next night, however, naraku had work so we had to leave the awesome house // sikander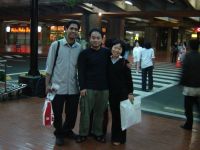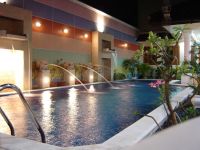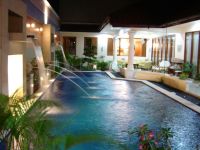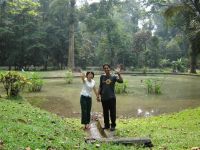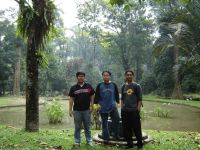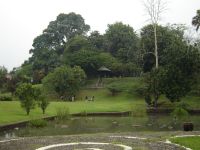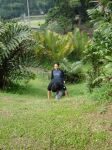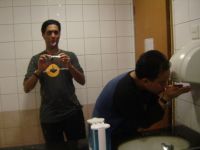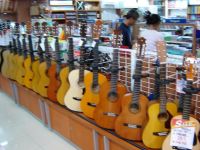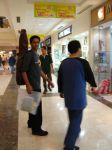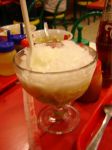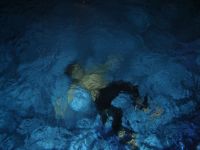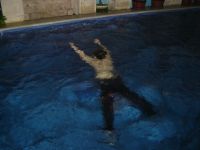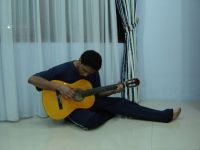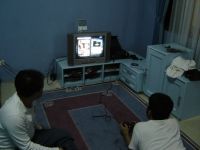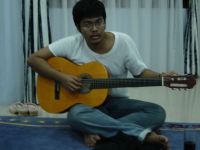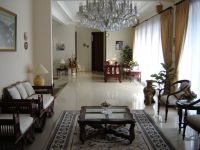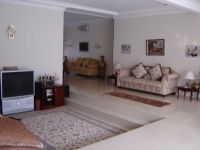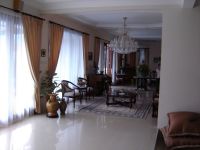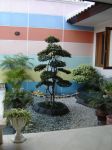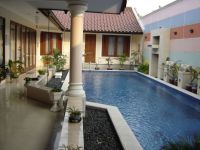 naraku had to go back to work on monday, so we left bogor on monday morning at 6. we arrived in jakarta about 8 and met naraku's mom and dad. they were so kind and warm so sikander and i wondered if naraku is their real son. how can same blood be so different naraku? anyhow, naraku decided to skip his work and we drove around in jakarta, went to another shopping mall, changed some dollars into indonesian rupia ( $1 CDN = $7000 Rupiah ), bought sikander's shoes and shorts, played some games at the arcades etc. you know what was a great thing but at the same time weird about being with naraku ? there was always a driver taking us to wherever we want to go, waiting until we want to move to another place. there was all the time a maid who took care of food, cleaning, and laundry for us. i have never been on such a luxury trip before.
// the whole concept of having servants is quite foreign to me. my mother used to have a maid in saudia who would come in every morning for a few hours and help around the house. but to have a driver who would drive you to places and then patiently wait for as long as you are engaged in whatever you are doing just seems odd and a bit cruel to me. but at the same time it is fine because he is being paid for it so i shouldn't feel obliged to hurry back so he wouldn't be bored and whatnot. naraku mentioned quite a few times not to worry about the driver being bored or lonely but even after a week i did not feel completely comfortable knowing that there is someone just waiting for me to get back so he can take me home or somewhere else. same goes for lunato.. she wasn't completely comfortable about it either. i guess you have to be born and raised with servants around you to be used to them. the shopping malls are quite impressive in indonesia. they're huge and with almost everything you can imagine. and of course with 1 CDN being 7000 Rupiahs, everything is extremely cheap from my point of view // sikander
since sikander and i hadn't had enough sleep for several days, after naraku left to his work on tuesday, we slept until about 2 pm. we were having food when naraku came back and we dressed up and went out again. of course there was a driver waiting for us. actually the driver's name was herman and he was a very nice and kind driver. sikander and i really liked him. he drove us to another huge shopping mall. sikander and naraku bought some computer hardware stuff and a lot of illegal copied cds. sikander said it is so surprising that these pirated cds are openly traded there. later we visited SeaWorld which is a beach / amusement park. it was quite a lovely place and there were a lot of love love couples who were being loved loved there by each other. romance was in the air. oh, you know the indonesian version of McDonald drivethru ? you stop at the McD sign about twenty or thirty meters away from the actual store and honk your car horn. then a Mac guy walks out from the store to your car to take your order. after sometime he comes back with your food and change. all the cars, after ordering their food, go into a parking spot and you can see several Mac guys walking back and forth between the store and the cars.
// another unusual thing about indonesia is the toilet tax. if you use a public washroom you have to pay atleast $1000 to a tax collector sitting outside the toilets. imagine that job.. sitting outside toilets and collecting money all day long from people who go inside the relieve themselves // sikander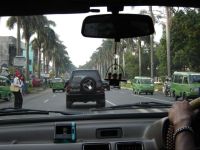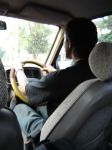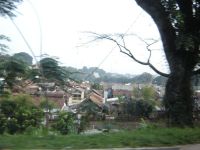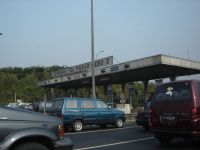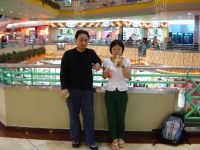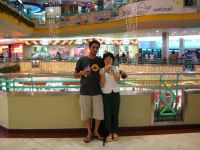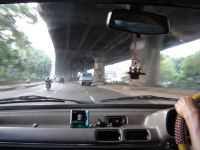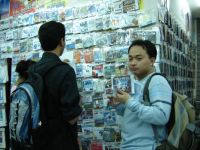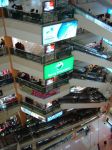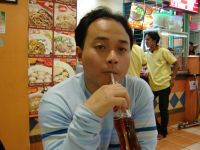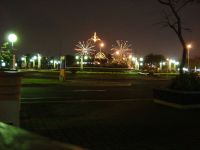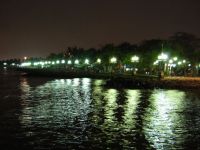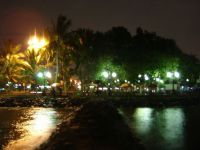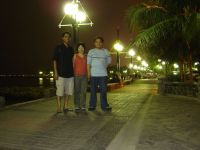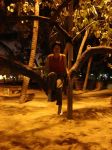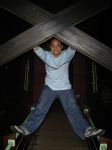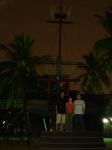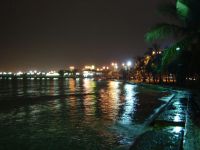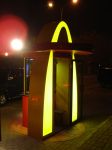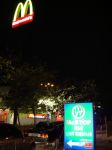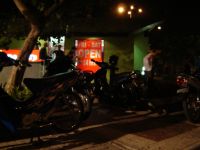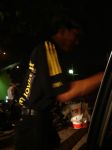 staying at naraku's place was like being a princess and a prince. there was a maid who took care of clothes, prepared food and so on. when we woke up there was food already prepared, and after food, there was a driver who was waiting for us to take us the place we wanted to visit. it was amazing to have those people around but still sikander and i wanted to explore jakarta by foot. so sikander and i decided to stay alone for two days without a maid and driver. on wendensday, after dropping naraku at his work, ministry of finance in indonesia, the driver took us Taman Mini where we can see various indonesian architecture and culture from all the provinces. it was like a huge amusement park with lots of buildings, aquarium, IMAX theatre, cable car ride, train, monorail, and souvenir shops. it was the first time for us to be with the driver without naraku who can speak english and indonesian. without naraku, the driver kept saying "i'm sorry, i'm sorry. me no english" :) i felt sorry that non-english people automatically assume that not speaking english is a shame or an inferiority. me too. when i speak crappy english, i also feel embarrassment or shame. don't say that "hey, i don't speak korean as good as your english". that doesn't make me feel any better, cuz i know english is already so dominant that any other language can't be equal to it. i am not talking about superiority or anything. i am talking about the vast range of usage and monopoly that english has. luckly, i do speak english, don't i?we got some nice souvenir at Taman Mini and asked the driver to go hotel Aryaduta, a five-star hotel managed by Hyatt International and located near the center of jakarta downtown. the room was on the 8th floor with a very nice view. it was the best hotel i have ever stayed in. probably for sikander as well :) we got out of the hotel at about sunset, to walk around. we did not anyone who could speak english and we enjoyed so much the feeling of being stupid foreigners lost in jakarta. later at night naraku visited us with his uncle. we went to yet another shopping mall together and then visited naraku's uncle's place later at night. all of naraku's family showed great hospitality and kindness to us all the time. and naraku's uncle and aunt told us that they are taking sikander and i on a family trip to bandung this weekend. cool cool cool.on the next day, thursday, we went exploring in jakarta downtown. there was a big Atrium Shopping Mall and a Plaza Indonesia and The Ex Mall. some stuffs were really nice and cheap there. i got a very nice red purse and sikander got new sneakers. we visited the National Monument as well and saw jakarta from the top of the tower. all the buildings were very nice and jakarta looked just amazing from there. later we met naraku to see a movie regardless of which it is. the only movie we haven't seen that was playing was "Raising helen" yes, kate hudson was pretty cute.
// the National Monument is a really tall tower sticking out of the ground in downtown jakarta.. it is quite an impressive monument and yet you get the feeling that the whole country is compensating for something hehehe. Plaza Indonesia and The Ex were the richest malls in jakarta and i think thats where the rich kids hang out. there was also a live tv show going on in The Ex near the movie theater… some kind of live talk show + music + funny tricks with audience. oh and kate hudson is indeed pretty cute :P // sikander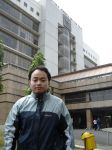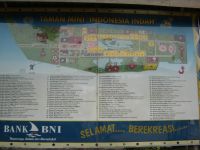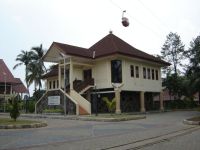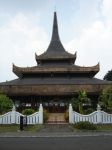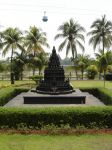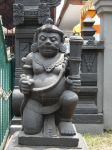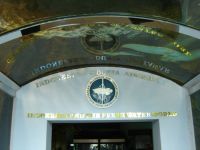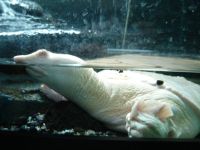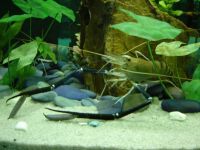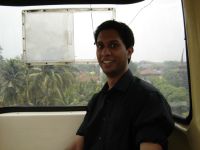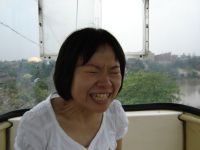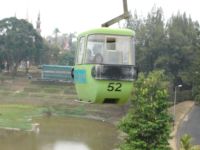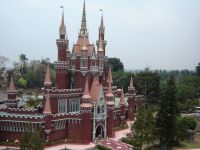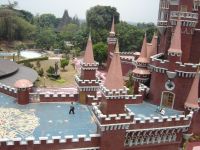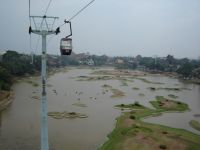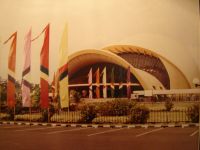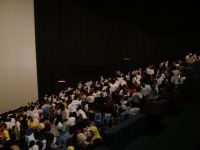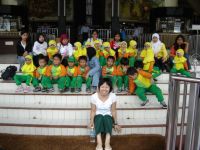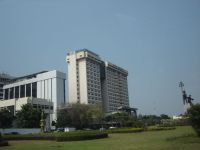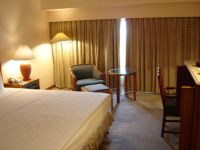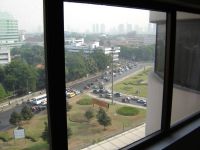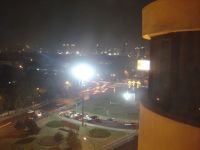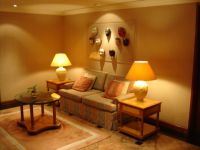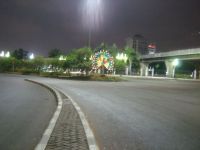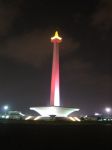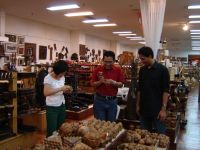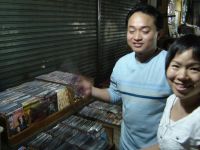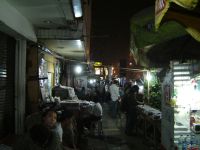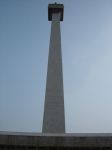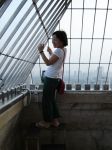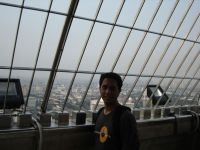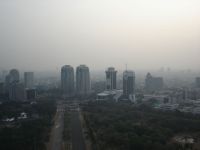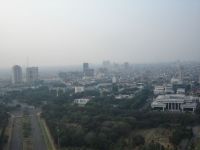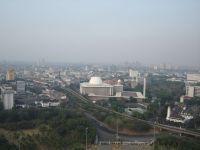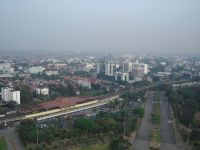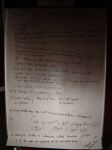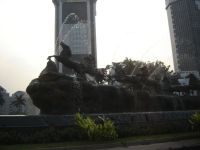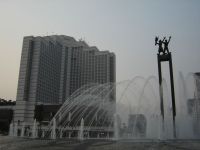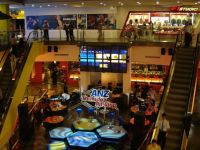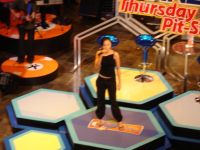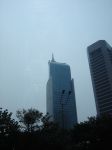 on jummah on friday, we came back to naraku's place after two nights at the hotel to join the family trip. it would take about 6 hours to get to bandung. we all went to naraku's uncles place and got on the road to bandung. there were three cars.. all SUVs. the road was amazing.. going up and up beside the mountain side before it started going down and down, sikander said. i slept mostly during the trip :) we finally got to bandung around 2 in the morning and i slept with two girls who were naraku's cousins.
// naraku's uncle has four kids.. a son and then three triplets; two sons and one daughter. naraku's other cousin, okky, was with us as well and lunato and i felt a lot of tension between them and so we tried to get them together as much as we could but naraku seemed to have impressed her with his charm months ago and she always blushed red as an apple when naraku was around and she would follow him wherever he went and do whatever he asked and give him compliments and make him his favourite food and brush his few remaining hair and … oh wait, that was naraku's fantasy and not reality. lunato slept with okky and the triplet cousin girl in a room. the three boys were in another room and naraku and i were outside in the lounge area sleeping on a mattress with pillows and quilts. oh and naraku snores! // sikander
next day, naraku's uncle arranged a trip to an active volcano for us. a driver took naraku, sikander, and i to the volcano place. we went to a really deep and high mountain place and reached the huge volcano summit. the view from there was something really amazing, unusual and different. i really liked the atmosphere of the place. the air was so clean and pure. such a rich forest around the mountains and the volcano crater in the middle was definately a remarkerble view. i even got on the back of a horse there. i couldn't believe that all the fun i was having was real. after horse riding, we started hiking to get to closer to the volcano with some travel guides. we bought eggs on the way cuz we heard we can boil the eggs into the real volcano water. after almost an hour of hiking, we got to the volcano spot where the water was boiling and belching up weird smell and lots of smoke. took photos, talked, relaxed, and ate the boiled eggs…what a trip and what a place…
// the volcano's crater was indeed an amazing place to be. the rocks in the crater were spewed from within the volcano when it last erupted in 1969. the crater was complete barren and looked sad and desolate but naraku said that everywhere he steps will some day bloom with life. the hike was quite long and downhill from the major crater to the smaller one. naraku slipped once or twice and we were worried he might create a new crater in the middle of the forest // sikander
sikander's and my flight to hongkong was at 7:25 the next morning so we left bandung at saturday night. we came back to jakarta at about 1 am in the morning. after 2 hours of short sleep, we said good bye to naraku's parents and left for the airport. said good bye to naraku at the airport and started the trip to hongkong. indonesia is not a just foreign country any more. we became to know so many people there. naraku's mom and dad, uncle and aunt, naraku's cousins, zhum zhum, naraku's long time maid, herman, the driver who was with us all the time. thank you naraku and everyone. thanks to all of you, we enjoyed indonesia so much.
// we were supposed to take the train from bandung to jakarta on saturday night but the train arrival time in jakarta got mixed up with the train departure time in bandung and by the time we realized it, it was too late. so the next option was to drive back home to jakarta. it took us 6 hours from jakarta to bandung so i was quite worried that by 9 pm we were still in bandung with a 7:25 am flight from jakarta. however, we went to a carpool place and got three tickets. the jeep had two more seats left and we waited for half an hour for other people to arrive. by 9:45 there was one more passenger and the fifth seat was still empty. i asked harry to get some of my USD converted to Rupiah as both of us were broke at the time. he hurried to a nearby hotel and got Rupiah but hurt himself on the way back while crossing the road and starring at girls. the girls in bandung were more fair in complexion than jakarta girls. poor naraku fell and cut his finger and toe and knee and i don't know what else. i wasn't there to witness it otherwise i would've given a better description of what happened. at 10 when naraku came back, i bought the extra seat and we were on our way back to jakarta. the "professional" carpool driver completed the journey in three hours only. it was the scariest, most dangerous, and riskiest ride of my life… but thrilling as well. and we arrived back in time for some sleep as well so all was good. it was sad saying good bye to naraku's parents who had been so hospitable and generous. we left cakes and thank you cards for both his uncle in bandung and naraku's parents in jakarta as an expression of our thanks and appreciation. but due to such a hectic schedule we didn't get to even taste either of the cakes.. doh ! :) saying goodbye to naraku wasn't hard at all. i just told him to take care and that i'll see him in tokyo next year. in 2005 dooh will join me and we will fly from canada to japan, naraku from indonesia to japan, and lunato from korea to japan. that's the plan :) // sikander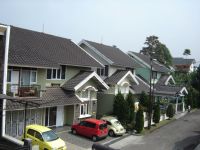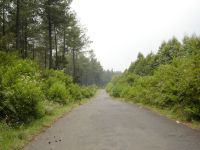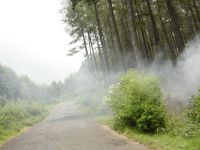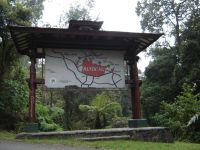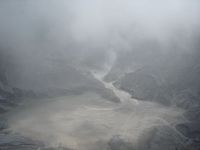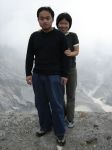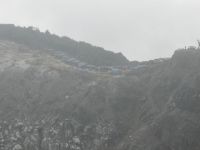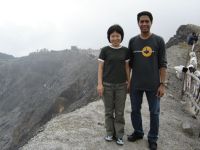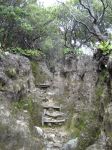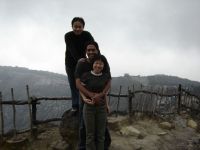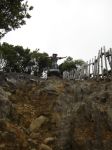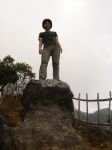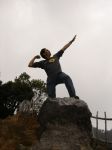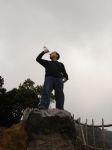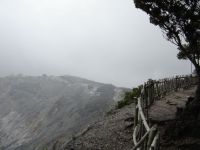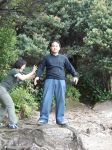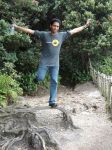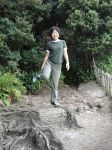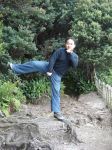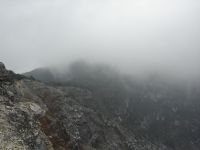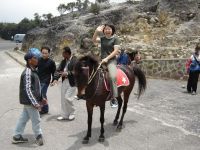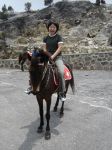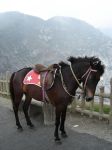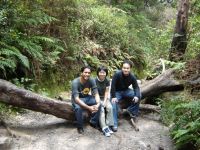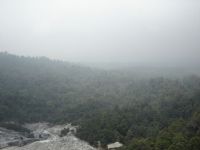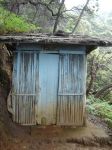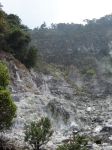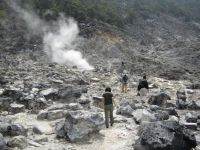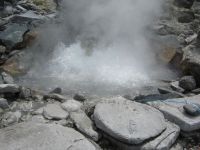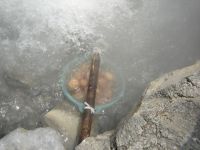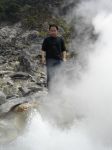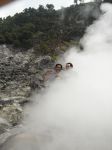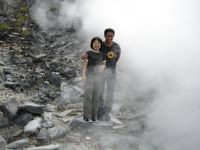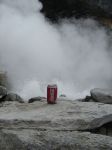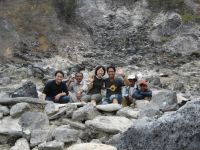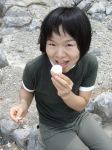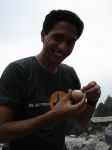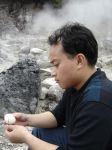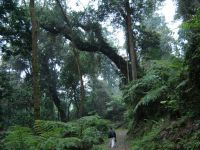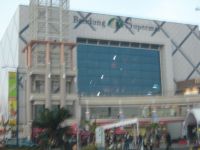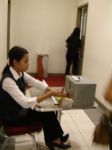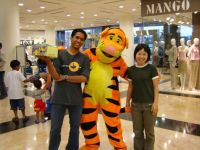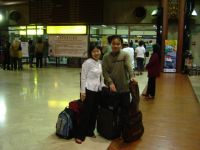 from jakarta to hongkong, it was the nicest plane riding i have ever had. maybe anyone who has experienced so hard farewell at the airport can easily tell how nice it is to ride an airplane with the one we want to travel with. i wanted to yell at people "hey look at me, i don't cry this time, i am not walking to the duty free zone all alone with red eyes and broken heart." :) the flight was about 5 hours long with a stop over in singapore where they let us off the plane for half an hour. after stop over at singapore airport we arrived at hongkong at about 3 pm. a short rest at Panda hotel, then sikander and i were walking around the neighborhood of the hotel… both of us kept saying "can you believe this? we are walking in hong kong !! in china !! look at this, look at that" we decided to have a short trip to downtown H.K, so took a subway from the hotel. as soon as we got out of the subway near the ferry terminal, we couldn't believe our eyes. "The Neon City" is really a proper description for hong kong. the ferry was leaving from one side of river and took just 10 minutes to get to the other side. but that 10 minutes provides people with the most amazing nightsight ever. i've seen the famous Manhattan night sight, tokyo night sight, paris and so on but hongkong night sight was the most brilliant one. hey how can i not be impressed by hongkong night so much…. riding a ferry watching the neon city, it was the finale of this trip. after that night we had to go back to the different worlds we belong to. bye bye hongkong, i am sure i will recall you every now and then with so much nostalgia.
// the security personnel confiscated lunato's scissors at the singapore aiport. our poor blue scissor bought in Grand & Toy in Billings Bridge in Ottawa is now somewhere in Singapore. i think it was quite stupid to confiscate it… but even worse was that it was in lunato's bag but the security guard took my boarding ticket and wrote down my information. i did not realize that until he was almost down writing down whatever he was writing but by that time it was too late to do anything about it. luckily they did not do anything else and just kept the scissors… as if i would do *anything* to jeopardize this flight. walking around in hong kong at night was one of my dreams ever since i saw pictures of hong kong. it was unreal seeing it all with my own eyes.. i haven't seen all the night sights that lunato mentioned but i am sure there is nothing even close to hong kong's night view. i wish we had more time to explore in hong kong but we didn't and we were happy with what we did get to see. at night i dropped lunato at the airport for her 12:40 am flight to seoul and came back to the Panda Hotel. i was completely exhausted by that time having not hand enough sleep for days and fell asleep right away. next day i woke up because the phone was ringing and it was lunato calling from korea… it was so sad to realize that just within a few hours we were in different countries and the distance would grow even more as i took my 1 pm flight to vancouver and then to toronto. it was an unbelievable and unforgettable week of vacation and i wish next year all four of us can meet again in japan // sikander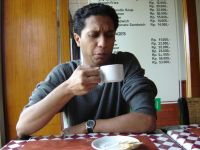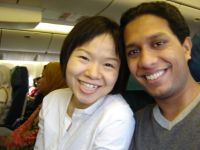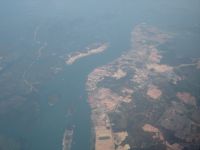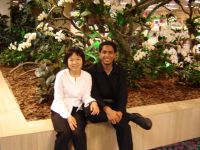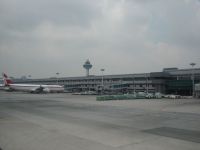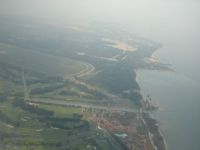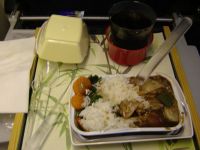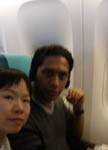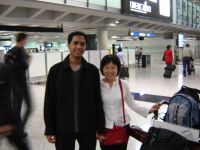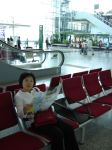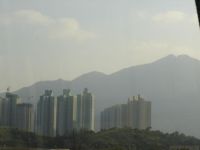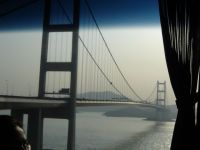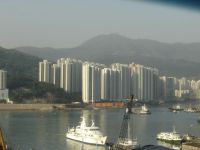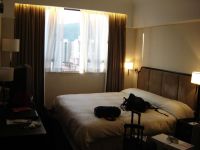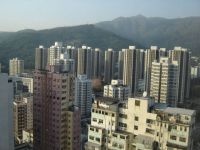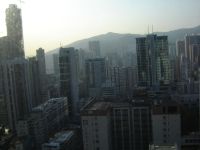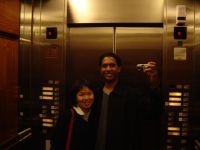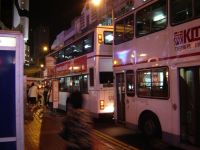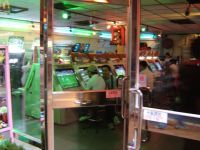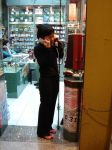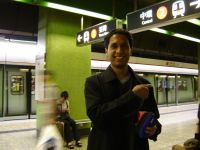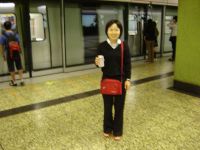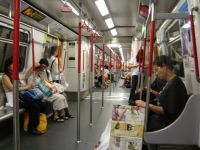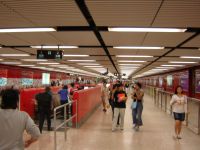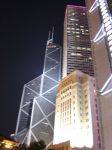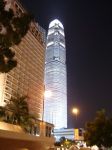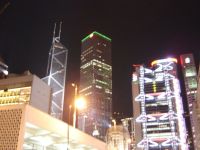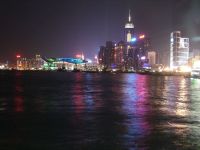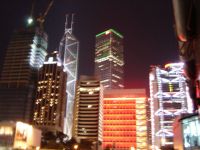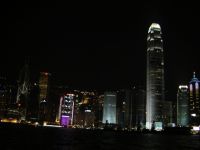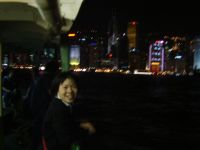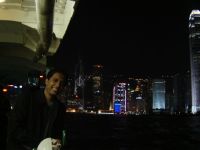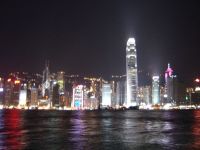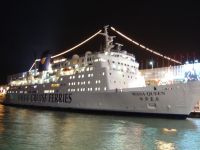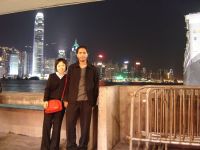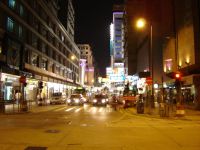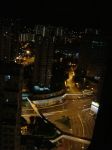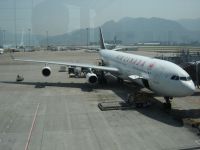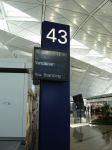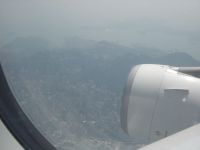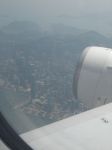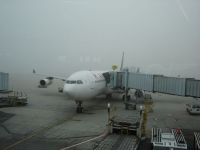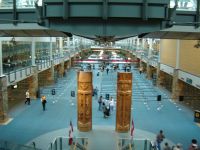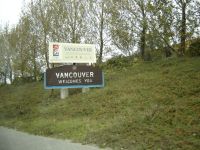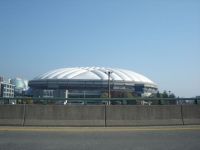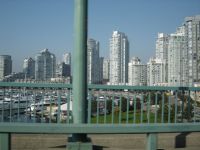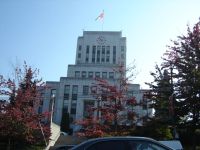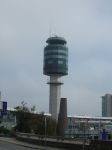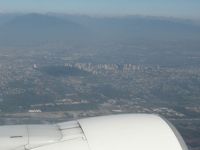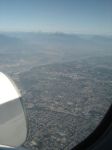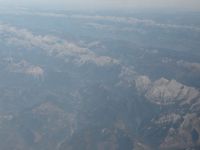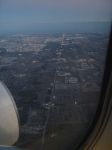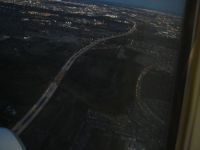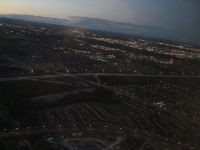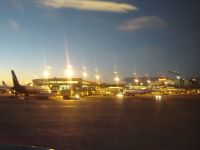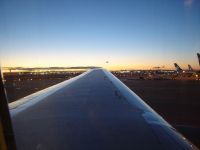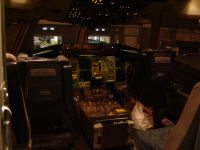 what a vacation. meeting dear friends in such places. the talks, the teasings, the jokes and the laughter we had… i told you life is full of surprises…and i got one recently. there should be more suprises coming, so i will do my best to deserve nice surprises. thank you so much naraku for taking care of us and making such funny and nice jokes, and thank you so much sikander for making such a long journey. i know you have been suffering by jetlag during the trip and even now. finally, for our next meeting, dooh, you should be there as well. i mean it!!!
videos [ divx ]