lets see.. i have my laptop, two water bottles, nero wolfe mystery, tv remote, dvds, cell phone, benylin tablets, and a tissue box on either side of me. i'm all set and ready to relax. indeed, this current bout of the cold / sore throat / runny nose attack has been the most luxorious and relaxing one yet. i caught it from thrawn who caught it from one of his friends who apparently brought it from bangladesh… an international virus that travelled thousands of kilometers to end up fighting my immune system. i hope no one else catches it from me and i destroy each and every single one of them.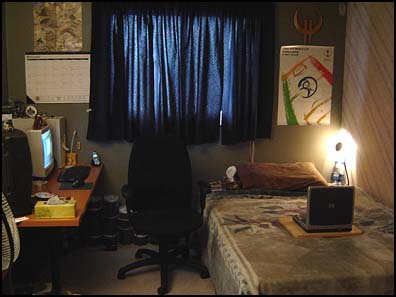 last time i was sick in ottawa, i had lots of
miso soup
. miso soup during cold or flu type of ailment is an excellent choice. hiromi was nice enough to bring some more from her trip to japan. none of the grocery stores in ottawa had them.. at least lunato and i were unable to find them anywhere. i haven't explored any toronto / mississauga japanese grocery stores so i don't know if they're available here.. hopefully yes. the packets look like
this
and if you know where i can find them, please let me know. arigato.
i was looking forward to having no work to do over the weekend so i guess it was perfect timing for my cold. i've spent part of friday and all of saturday just lying in bed with the laptop and nero wolfe. sleep and read and watch stuff. yeah… :)
wireless internet is just amazing. i know i am a few years late but i find it so cool to be able to pick up the laptop and move it around and still be online. <neo>whoa!</neo>. and imagine, most algonquin campus had wireless internet available for students. as long as you have a wireless adapter in the laptop, you're online anywhere on campus. man.. the possibilities.. browsing n classrooms, during lunch, during time off between classes etc etc. carleton's network was just horrrrible and would go down repeatedly. i hope its better now.
last year i went skating for the first time.. and haven't done it since then. i wanted to in seoul but the timing didn't work out. i was horrible at skiing but comparatively much better at skating. didnt fall a single time.. unless you count the time when lunato just pushed me on purpose so that i wouldn't keep boasting about how i didn't fall a single time. cheater !!
the third season of the apprentice is a bit boring. i think it should pick up and become more interesting half way through the season when we get to know the candidates a little better. craig, chris, and tara on the Networth team don't seem to be in the show at all. i barely see any of them. i was happy when harry got fired. he was a horrible leader. same for kristen. john seems to be the only decent worthy-of-apprenticeship candidate on Networth. On Magna, everyone seems to be an idiot except for alex and todd todd but todd was the first one to be fired this season so he's gone. he just made a bad bad mistake of not getting trained himself so he could jump in and help out the rest of the team during the Burger King task. i think john deserves to be one of the final two candidates.. and hopefully the finale wouldnt be a colossal disaster like season two's finale… two and a half hours of "i am donald trump and i haven't made up my mind yet" + cut to commercial. ugh
anyhow, after two days of resting, i'm a bit bored and aching to get back to work. yeah yeah, i'm sure i'll be whinning and saying "too much work" soon enough :P
today is skid's birthday by the way so happy happy birthday to him!