hmm.. maybe i really had gained a lot of weight over the past two dozen days in korea. i was invited to go mountain climbing today. i had never climbed a mountain before in my life so i was a little bit apprehensive about it but lunato's nephews told me that they are going as well and that their dad goes every sunday. no equipment is required and it is just walking on a path that winds its way up a mountain. cool!!
but… wow, it was really strenuous. i was exhausted by the time we reached the first summit and wanted to stop for a rest half way up there… but i thought maybe this is some sort of a physical endurance test and i was being tested by the family. gotta go on.. one more step.. and another.. and another. remember, each step brings the destination closer. go go go.. phewh. the climb was extremely tiring and my calves were screaming for a rest every time i took a step… but i made it!!. and the view was breathtaking. we basically started from the buildings you see at the right most corner in the amatuerly created panorama.
the climb down was easy. losing potential energy is always easier than obtaining it. i am pretty much out of shape as well so it was a good exercise and a good wake-up call as well. however, i really wanted to relax so lunato and i went to downtown Anyang and after food (i laugh in the face of exercise.. hah!) we went to a Karaoke bar. i have no singing ability at all. my allergies, deformed nasal passages, and an almost-ashtma-type condition robbed me of that a long time ago. but this was my first time in a korean karaoke bar so i had to sing and i sang along with lunato and managed not to break any glass :)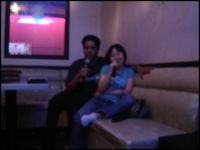 we sang a lot of our favourite songs; Eagles – Hotel California, Coldplay – Talk, Coldplay – Yellow, Oasis – Don't Look Back In Anger, and ended the night with Extreme – More Than Words. Amazingly enough, all the songs we wanted to sing were available. Karaoke is a pretty good way to relax and pass the time. Fun!