as i mentioned earlier, last night dooh and i met at shekhar's house in barrhaven. we watched Underworld:Evolution (mainly because of kate beckinsale in a black skin tight leather suit… and vampires.. everyone like vampires!.. and also because there was nothing else worth watching) at the new Barrhaven theatre (small theatre but close for all the people living in barhaven). the movie was a sequel to Underworld and i had forgotten most of the first movie so couldn't really follow what was going on in this one. in any case, the vampire and werewolf fights were pretty fun to watch.
later we ordered pizza and went to the basement and started watching the Die Hard movies; Die Hard [1988], Die Hard 2 [1990], and Die Hard: With a vengeance [1995]. my personal favourite one is the second one. shekhar was really sleepy so we had to stop after watching the first two and decided to watch the third the next day… today. good times.
after finishing all three movies, we dropped dooh at home, and then i went to the bus station to take a Greyhound bus back home to mississauga. it was a fun weekend and hopefully i'll get to repeat it again. there are so many excellent movies that neither shekhar nor dooh have seen. i have much work to do to get these two up to date.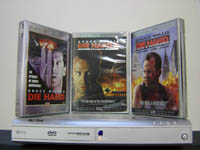 btw, here is dooh's writeup about the weekend.